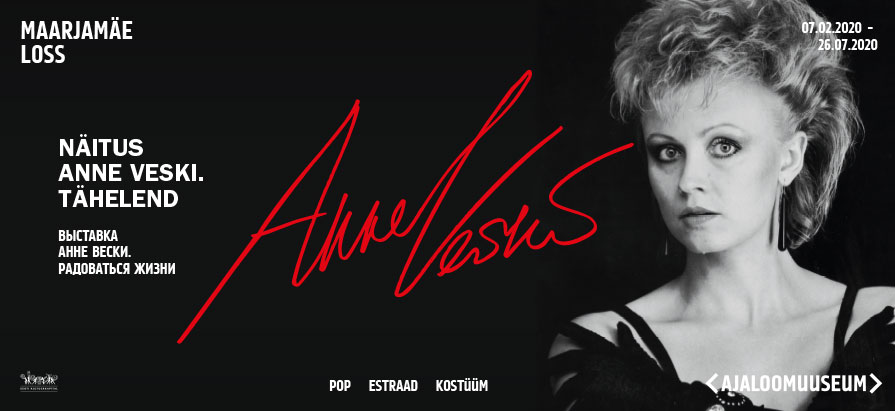 The exhibition "Anne Veski: A Pop Icon" invites you on a fabulous journey with the queen of the rose garden from the world of the stage.
The voice of Anne Veski is recognisable for tens if not hundreds of thousands of radio listeners in Estonia and in Russia. She has made stadium crowds of several tens of thousands of people cheer six times a day, and she was a fashion icon for millions of Soviet women thanks to her stylish stage outfits.
The exhibition provides a colourful overview of Anne Veski's development into an idolised pop star. Besides the hustle and glamour of life in the limelight, the exhibition also covers some of its more bitter aspects. Is talent necessary for a star to be born, or is hard work and luck enough? Nevertheless, a glittering stage career also needs supportive companions.
The exhibition sheds light on the Soviet music industry of the 1980s and its impact on the development of the Estonian music industry. We will explore how and to what extent Anne Veski was able to publish recordings under the aegis of Melodija, the world's largest record company at the time.
The outfits, an integral part of a life lived on stage, are also displayed. We will be exhibiting the star's wardrobe in its full glory: you will see outfits created for Anne Veski by the fashion designers of Tallinna Moemaja, and also the dream dress of thousands of women – the dress that was made in the atelier of the Bolshoi Theatre and which Anne Veski wore in the music video for "Hea tuju laul" (The Good Mood Song). For the first time, visitors will be able to see some exciting gifts and peculiar mementoes given to the star by her admirers. And there will be music, of course!
Anne Veski herself, a star with unparalleled stage experience, has this to say, "How are stars born? Through work, dear friends. Through nights slept on the floor, seemingly endless travelling from one concert to the next on a cold bus, tinned food in a hotel room. But you've got to have a bit of talent as well."
The exhibition "Anne Veski: A Pop Icon" will be open at Maarjamäe Palace from 7 February to 24 January 2021.
Curator: Marion Laev (Estonian Academy of Arts), consultant Aimar Ventsel (University of Tartu)
Video clips: Hindrek "Masa" Maasik, Margit Ossipova
Design: Kärt Loopalu, Superellips OÜ
Graphic design: Pamela Sume and Valter Jakovski, Ruum 414 OÜ
With thanks to: the Cultural Endowment of Estonia, Alexandre Vassiliev Foundation