Maarjamäe Palace Summer Hall
The palace's 134 m2 summer hall is perfect for organising dinners and receptions, as well as concerts and seminars. Evald Okas' monumental painting Rahvaste sõprus (The Friendship of Nations) is displayed on the wall of the hall; if necessary, the painting can be covered. The summer hall can fit up to 120 seated, up to 80 seated at banquet tables, and up to 150 for a standing reception. There is a piano, screen and a projector in this room.
Maarjamäe Palace Fireplace hall
The fireplace hall is a 95 m2 room situated in a separate wing of the palace that is suitable for organising festive events as well as seminars and meetings. The hall capacity is up to 80 seated, up to 60 seated at banquet tables of 8, and up to 150 standing. There is a screen and a projector in this room.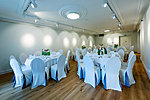 If you wish to rent rooms at Maarjamäe Palace, please send a query to us: